SPRING SALE NOW ON - EVERYTHING REDUCED!
Dragon Handle Pot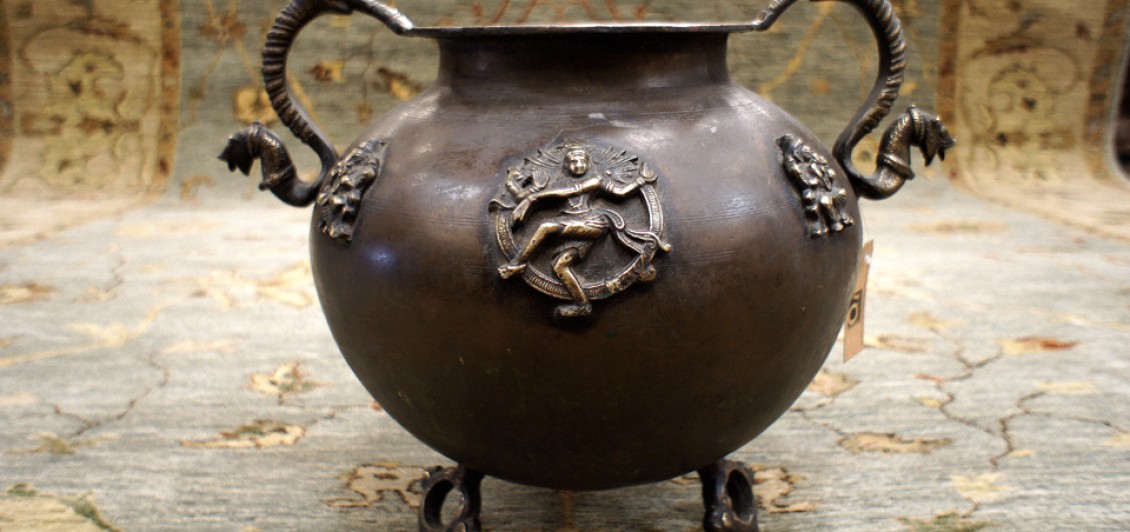 ---
---
Dragon Handle Pot
SORRY NOW SOLD
We may have similar in stock
Please call for 01604 759755 to enquire
Another great find. This heavy, solid cast brass pot from Rajasthan (although calling this a pot does it an injustice!) is emblazened with dragon handles and Hindu images of Ganesha and the Natraja. We've lightly polished the top and highlights on the figures so as not to spoilt it's patina - this is possibly 30-50 years old but it is very difficult to age these items acurately.
Product Details
Construction:

Hand Cast

Material:

Brass

Quality:

Fine

Origin:

India
Please Note: we take every care to show a realistic representation of colour. However due to lighting conditions and variation in computer screen output it is sometimes difficult to acheive this - if you would like more pictures of any of our items then please do not hesitate to contact us.
In the case of furniture - due to the unique nature of the material and it's construction, graining and shading may vary from that shown.
Purchase Options
Sorry, this item is currently out of stock - don't worry we have more arriving soon, please contact us and we can let you know when it's available - sorry for any inconvenience.
Shipping and Returns
Delivery
Delivery within the UK is FREE! We use CSM delivery and you can expect your new goodies to be there in 2-3 working days, sometimes even next day. However, orders placed after 12pm on a Friday will be delivered to you on the following Wednesday.
We can deliver worldwide, for locations outside mainland UK please contact us for the best price.
Returns
Don't worry if you find your purchase unsuitable. Just return it to us within 14 days and we'll refund your payment... please click here for full details.