Open Tuesday - Saturday 10am - 5pm
India Aubusson Wagutchi S1 Iv/Gr
India Aubusson Wagutchi S1 Iv/Gr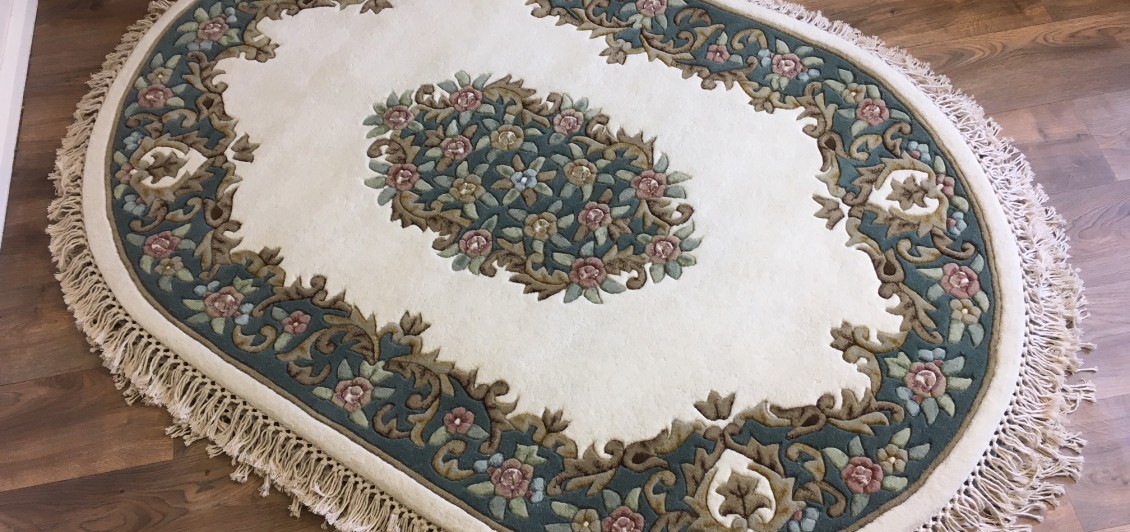 ---
---
India Aubusson Wagutchi S1 Iv/Gr
A lovely hand made Indian Aubusson rug in crisp ivory and green. Hand carving puts the delicate flowers in relief giving these rugs a beautiful sculpture effect. Very similar to Chinese rugs and almost as hard to find these days, especially in ovals!
Also available in the reverse colour way green/ivory Wagutchi S1 Oval green/ivory
Product Details
Construction:

Hand Tufted

Material:

100% Pure Wool on Cotton

Quality:

Fine

Origin:

India
Please Note: we take every care to show a realistic representation of colour. However due to lighting conditions and variation in computer screen output it is sometimes difficult to acheive this - if you would like more pictures of any of our items then please do not hesitate to contact us.
In the case of furniture - due to the unique nature of the material and it's construction, graining and shading may vary from that shown.
Purchase Options
Oval Ivory
L: 150cm W: 90cm
L: 4' 11" W: 2' 11"

£195.00 RRP:£245.00

Oval Ivory
L: 180cm W: 120cm
L: 5' 10" W: 3' 11"

£295.00 RRP:£345.00
Shipping and Returns
Delivery
Delivery within the UK is FREE! We use CSM delivery and you can expect your new goodies to be there in 2-3 working days, sometimes even next day. However, orders placed after 12pm on a Friday will be delivered to you on the following Wednesday.
We can deliver worldwide, for locations outside mainland UK please contact us for the best price.
Returns
Don't worry if you find your purchase unsuitable. Just return it to us within 14 days and we'll refund your payment... please click here for full details.
---
We think you'll love these too: