Open Tuesday - Saturday 10am - 5pm
PLEASE NOTE: WE WILL BE CLOSED FROM JUNE 26th & RE-OPEN ON SATURDAY JULY 9th AT 10am
Any orders placed during this time will be processed & despatched on Tuesday 12th. We are sorry for any inconvenience.
Rug Underlay
Fed up with your rug slipping or creeping all over the place? We have the solutions.
Underlay for your rug or carpet is all-round good stuff. It not only increases the life of your rug but from a safety point of view it prevents slipping. Other benefits including insulating cold floors and levelling uneven floors, it also helps prevent dye transference from rug to carpet. The best bit though? Your rug will feel even nicer to walk on!
We highly recommend these two great products.
"Brilliant service - so helpful on phone. Monarch underlay arrived cut to correct size. Very easy to lay and is amazing. My new rug feels so much more luxurious and stays in place on newly sanded wooden floor. Very very pleased- many thanks."

Mrs M. (June 2019)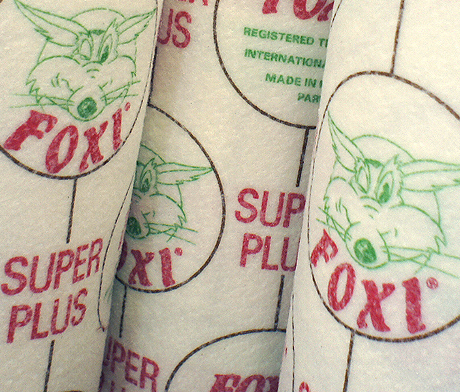 FOXI UNDERLAY - For rugs of all sizes & runners on top of fitted carpets and small rugs on smooth floors (tiles, laminate, etc) we recommend Foxi Super Plus. It's a bit more expensive than most underlays but you've probably tried the cheap stuff and it didn't work - now try the best. Guaranteed to work or your money back!
If your rug slips, rucks, is wavy, has folds, or goes out of shape, we have the solution: Foxi.
These are the golden rules for better use and a longer life for your rug thanks to Foxi.
On smooth floors, lay Foxi face down and put your rug on the white surface.

On carpets, lay the white side down and put your rug on the fox face.

Always lay Foxi less than the rug sizes: up to 7.5cm (3") on heavier rugs and up to 5cm on lighter rugs.

For best results using Foxi, make sure your floor or carpet is clean.

Once down, avoid moving Foxi. The more often Foxi is moved, the more it attracts dust and other particles, thus making it less effective.

When cleaning your rug, do not vacuum the Foxi.

When washing floors, ensure the surface is dry before replacing Foxi.
Foxi has been created to avoid movement on carpet and slipping on smooth floors.
Possible yellowing of Foxi – mainly due to sunlight – will not diminish its efficiency.
Foxi gives exceptional comfort under rugs thanks to its needlepunch fleece of new fibres and its soft thickness of 5/6mm.
Foxi contributes to the longevity of rugs, preventing premature wear.
---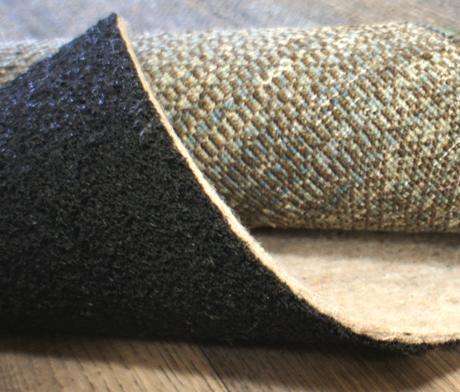 MONARCH COMFORT UNDERLAY - For larger rugs on polished floors we recommend Monarch. A great value, heavy duty underlay with a rubber underside and wool cushion on top this stops slip and creeping whilst insulating cold floors and levelling uneven flagstones or boards. For those who have under floor heating we can supply a similar product without the rubber backing.