Open Tuesday - Saturday 10am - 5pm
27703 Persian Gabbeh 149x108
27703 Persian Gabbeh 149x108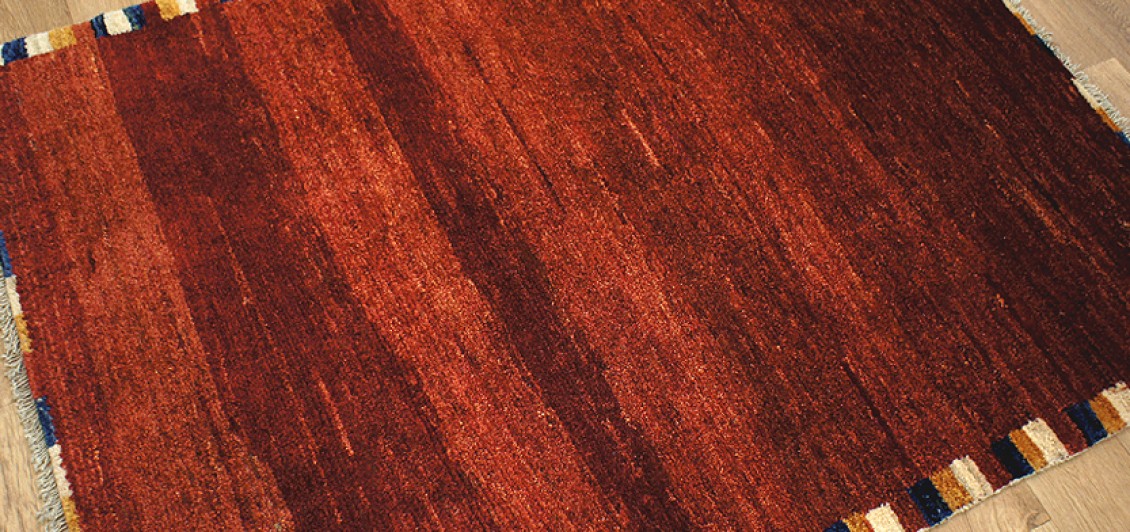 ---
---
27703 Persian Gabbeh 149x108
SORRY - NOW SOLD
This Persian Gabbeh rug, in tones of pillar box and tomato reds offset and framed by the primary colours of the small border, is stunning simplicity.
The high quality of the wool really makes each rug extremely durable and suitable for both contemporary or traditional rooms.
Like works of modern art but for the floor, 'floor couture' we call it (although I have several of these on my walls at home too!) Persian Gabbeh rugs have a style all of their own.
Hand knotted by the tribal Kashgai (Qashgai) nomads in southern Iran they often reflect the landscapes the weavers inhabit and invariably feature people, animals, mountains and trees. The random colour banding (known as 'abrash') is an integral part of the Gabbeh rug style and contributes to each rugs individuality and character.
All our hand knotted Gabbeh rugs are individually selected for quality, colour and design. We always have a good selection of Gabbeh rugs in stock.
Product Details
Construction:

Hand Knotted

Material:

100% Wool on Wool

Quality:

Heavy Duty

Origin:

Iran
Please Note: we take every care to show a realistic representation of colour. However due to lighting conditions and variation in computer screen output it is sometimes difficult to acheive this - if you would like more pictures of any of our items then please do not hesitate to contact us.
In the case of furniture - due to the unique nature of the material and it's construction, graining and shading may vary from that shown.
Purchase Options
Sorry, this item is sold and is currently out of stock - don't worry, we have similar or the same arriving soon, please contact us and we can let you know when it's available - sorry for any inconvenience.
Shipping and Returns
Delivery
Delivery within the UK is FREE! We use CSM delivery and you can expect your new goodies to be there in 2-3 working days, sometimes even next day. However, orders placed after 12pm on a Friday will be delivered to you on the following Wednesday.
We can deliver worldwide, for locations outside mainland UK please contact us for the best price.
Returns
Don't worry if you find your purchase unsuitable. Just return it to us within 14 days and we'll refund your payment... please click here for full details.
---
We think you'll love these too: